Celebrate this amazing day in history as Obama takes office and at the same time, help our local community! All of those involved with this special event are volunteering their time and energy so please come out and show your support. We have a stellar pool of talent performing…
Tuesday 1.20.09
7:00 pm to 2:00 am
Staples of Allentown  
253 Allen Street, Buffalo
07:00 pm - 08:00 pm: Audigit
08:00 pm - 09:00 pm: Oracle (of DharmaLab)
09:00 pm - 09:45 pm: The Fractal Project (audio visual DJ set)
09:45 pm - 10:00 pm: airing Obama's Inaugural Address  
10:00 pm - 11:00 pm: SugarCake featuring Eric Crittenden & DJ Cutler
11:00 pm - 12:00 pm: Mark Kloud
12:00 pm - 01:00 am: Twist
01:00 am - 02:00 am: Lydia Wrobel
100% of the proceeds and items donated will go to Compass House & Image Urban Arts Workshops.
Compass House provides safe shelter and counseling services to homeless and runaway youth in Buffalo and the WNY area.
IMAGE Urban Arts Workshop is dedicated to reclaiming Buffalo's inner city youth through after school education, performance, and production in the urban arts. IMAGE exposes and enhances students' creative abilities while helping them grow individually and socially.
In addition to –or- instead of the $3 donation, please consider donating these type of NEW items at the door:
Compass House is in need of: Cosmetic & Personal Care Items, Non-Perishable Food Items, Household Items, School & Art Supplies.
Image Urban Arts Workshops are in need of: Mini-DV Tapes, CD-R's, DVD-R's Memory Sticks, CD Jewel Cases, Batteries and Instruments.
For additional information and a more detailed wish list, visit:
www.CompassHouse.org
www.ImageUrbanArts.com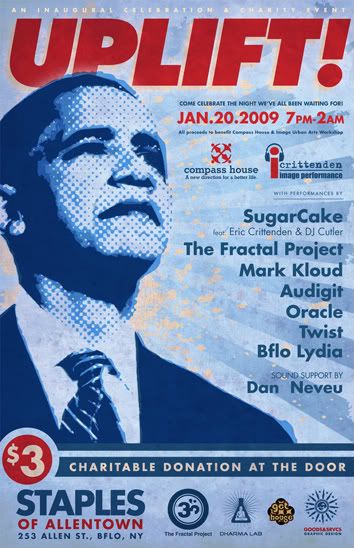 www.1crittenden.com
www.myspace.com/djcutler
www.DharmaLab.com
www.myspace.com/markkloudmusic
www.lydiawrobel.com
www.ifreelance.com/pro/18913
www.boardpusher.com/goodsandsrvcs