Desiderata - Latin for "desired things"
Turns out I will be playing Desiderata afterall on Saturday Night/Sunday Morning. If some folks are interested in going, I can have some tickets sent to me presale, Basha has some as well, or you can just buy them on the website. Check out the website for plenty of info.
http://www.desideratafestival.com
-Christian
NYC
and
CNY
in association with
ECHO LAKE
Presents
"DESIDERATA"
DESIDERATA


August 6-9th
Echo Lake (Afton NY)
http://www.desideratafestival.com
PRESALE TICKETS: 2nd Tier Tickets @ 100$ At all Stores and Website
All Responsible Ages  21+ w/ID to Drink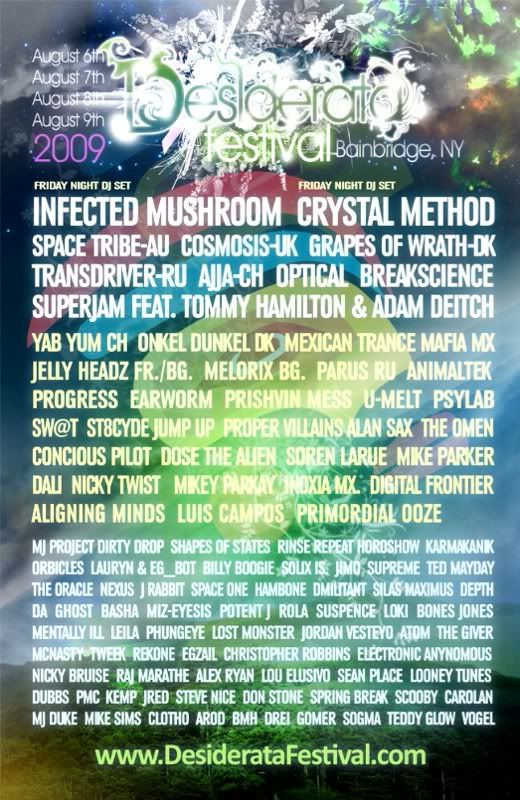 We seek to provide a space for you to dance, discuss, share, create, listen, explore, gyrate, vibrate, and connect. A meeting of open minds, Desiderata is a grassroots venture fueled by exuberance and a passionate, promiscuous interest in music. We believe in biodiversity. We believe the more the merrier. THIS IS YOUR FESTIVAL!!! Come as you are or dress to impress.
Excite us, inspire us, play with us, evolve with us, and expand our collective universe. Use and be used by a profusion of stimuli. Enjoy 4 days of live psytrance, jam bands, dub and more.
Check out various causes, engage in workshops and lectures, and attend indie film premieres and multimedia performances. Converse with enthusiasts, artists, activists, abductees, conspiracy theorists, all manner of humans and their friends, terrestrial and otherwise; most importantly, HAVE A GOOD TIME!
We hope to foster community in an environment which enables an amazing experience, leaving you invigorated. Both global and local in its philosophy, we want you to take something personal away from Desiderata, and to get involved as it grows in the years to come.
This is the official  confirmed lineup thus far for the festival.
It is in NO WAY the full lineup.
Special Guests and Appearances:
This list of activities is strongly emphasized to provided a truly dynamic festival, we take great pride in our selection of activities and lectures.
Mind Blowing Decorative atmosphere, structures and installations by Collective Hardware, the people behind much of the burning man decorative environment.
Yoga Instruction from the JivaMukti school
Special presentations by the Resonance Project and other…
Experimental and Underground Cinema Center
Electronic Sound Synthesis Workshop by Monno
Organized drum circle as well as a Drum and Jam workhsopby Progress
For more information and much more:
http://www.DesiderataFestival.com
contact@desideratafestival.com
www.myspace.com/desideratafestival
www.facebook.com/home.php#/group.php?gid=94296457065
Location:
The New Echo Lake Resort Campground
New York State, USA @ Bainbridge, NY
MUSICAL LINEUP
JAM BANDS
Break Science feat. Adam Deitch
Umelt
Tom Hamilton Super Jam w/ Adam Deitch
Psylab
MJ Project
Dirty Drop
Digital Frontier
Shapes of States
HoroShow
Rinse Repeat
PYSTRANCE / TRANCE
INFECTED MUSHROOM!!
CRYSTAL METHOD
AJJA *live*
Cosmosis *live*
EArWorm *Live*
Grapes of Wrath
Inoxia *live*
Jelly Headz *live*
Jimo
Luis Campos
Mexican Trance Mafia *live*
Melorix *live*
Onkle Dunkel *live*
Parus *live*
Primordial ooze *live*
Prishvin Mess *live*
Progress *live*
Solix *live*
SPace Tribe *live*
Transdriver *live*
YAB YUM *live*
Karmikanik *live*
Orbicles
Billy Boogie
Lauryn and EG-Bot
DEPTH *live*
DA
Phungeye
Lost Monster
The Oracle
Nexus
Ghost
Dubstep / J,ungle  / Drum n Bass
Optical
Sw@t
St8cyde Jump Up
the OMEN
Aligning Minds *live*
Basha
Miz-Eyesis
Potent J
Rola
Suspence
Conscious Pilot
Loki
Bones Jones
Mentally ILL
Leila
J rabbit
Space One
Hambone
Dmilitant
Silas Maximus
Progressive House/Breaks / Techno / Minimal  
AnimalTek *live*
Proper Villians
Dose the Alien
Alan Sax
Ted Mayday
Soren Larue
Mike Parker
Dali
Nicky Twist
MikeyParkay
Jordan Vesteyo
Atom
the Giver
Mcnasty
Tweek
Alex Ryan
Lou Elusivo
Sean Place
Mj Duke
Mike Sims
Rekone
Egzail
Christopher Robbins *live*
Electronic Anynomous *live*
Nicky Bruise
Raj marathe
Clotho
Kemp
J-red
Arod
Looney Tunes
DUBBS
PMC
Steve Nice
Don Stone *live*
Spring Break
Scooby Carolan
BMH
Drei
Gomer
Sogma
Teddy Glow
Vogel
There are endless activities on the beautiful campground of Echo Lake:
* 3 stages with state of the art sound systems
* A designated swimming area (do not forget to bring swimming suits!)
* A flea market featuring local artists and designers
* For the fishing enthusiasts there is plenty of room for you to enjoy the sun
* Community painting to express the spirit of this event
* large central campfire next to the second stage
WORKSHOPS
DRUM WORKSHOP
DANIEL PINCHECK
EVOLVER
YOGA WORKSHOP
ELECTRONIC MUSIC SYNTHESIS
MEDITATION WORKSHOP
RESONANCE PROJECT
REALITY SANDWICH
FUNTOWN LIVE INTERACTIVE ART EXPERIENCE
RULES AND REGULATIONS
* Upon arrival you will be asked to sign a regulations form stating that you understand the rules and regulations of the site and event.
* For the purchase of the ticket you will be given a bracelet which we ask you to wear at all times. An attendee without a bracelet will be asked to leave the event
* Echo Lake in an incredible piece of land with a magical energy and we ask you to take care of the property and leave no trace behind!! Please collect all of our waste and dispose of it to deignated bins. Lets respect the nature as we are coming together to celebrate it.
* Please pack only those things that are necessery for your enjoyment of this long weekend. Cars will not be allowed to move freely though the campground and there is a good chance that you will have to walk quite a while from the parking lot to your camp site.
* Cigarettes butts cause most fires and trash. Always put your butts out and NEVER throw them on the ground. Carry a small can or film tube in your pocket to hold your used butts. Let's show this land how much we respect it!
* Campfires are only allowed in designated fire pits. These will be available by request only. There will be absolutely no open fires as a lot of damage can be done to the nature as well as risk to fellow campers.
* Please take care of your personal belongings. Desiderata is not held responsible for any lost, stolen, or damaged belongings during the course of the festival.
*We are pet friendly and welcome you to bring your best friends to the campground. If you choose to do so please take care and watch your pets at all times. Please clean after them and do not let them run without a leash. Due to the open space of this campground we ask you to keep them with you at all times for the safety of the pets and fellow campers.
* No Littering, No Drugs, No fireworks, No firearms, or weapons of any kind permitted on the festival grounds.
* Public intoxication or contraband will be cause for expulsion.
* All glass containers will be confiscated upon entry to the festival and no exceptions will be made. we encourage people to bring their own drinks but large amounts of alcohol will be confiscated."
These rules apply to all vehicles once inside the entry gate:
* You will be welcomed at the welcome center/gate by crew members who will give you exact instructions including parking, unloading, and admission procedures. Please follow their directions and cooperate to ensure a speedy and safe entry.
* Cars will be allowed to enter the site ONLY for unloading and uploading; there will be a few designated spots that will be used as a parking lot.
* Please don't hang out in the parking lot.
* Speed limit in the campground is 10 MPH.
* Please try to avoid arriving late night, its easier to set up your tent when you can actually see your poles.
* Please use extra caution when driving at night, remember to keep a watchful eye for your fellow friends with your headlights on. No high beams please.
TICKET LOCATIONS
Puff N'Stuff, Utica, NY
 * 333 Genesee St,
 * Utica, NY, 13501
 * Phone: (315) 738-7121
The Sound Garden - Syracuse, NY
* Armory Square, 310 W Jefferson St,
* Syracuse, NY 13202
* Phone: (315) 473-4343
* Skyehigh - Rochester, NY
* 610 Monroe Ave
* Rochester, NY 14607
* 585-271-5750
* Power house Pro DJ - Buffalo, NY
* 3648 Harlem Road
* Buffalo, NY
* 716-831-5544
From New York (3 hours)
I-87 (NY Thruway) North exit 16
take NY-17 West and get off on exit 82
Follow signs for NY-41 North to Afton
Stay on 41 - Echo Lake entrance is on the right
about 5 miles after intersection with NY-7 (Main St.)
From Albany (2 hours), Boston (4 hours) and points East:
First fill your car with your closest friends then...
take I-90 (NY Thruway) West to exit 25A
follow I-88 West and gt off at exit 7
make a right onto NY-41 North
follow for about about 6 miles to Echo Lake entrance
From Ottawa/Montreal (5 hours), Syracuse (1.5 hours),
First fill your car with your closest friends then...
Scranton (1.5 hours), Binghamton (0.5 hours)
and points West, North and South
take I-81 North/South to I-88 East exit 7
make a right on NY-41 North and continue
for about 6 miles to Echo Lake entrance
Web support:
www.vibe315.com
www.rochesterunderground.com/rochester
www.groovetherapymanagement.com
www.Eventful.com
www.buffalobassline.com
www.rocgroovenet.org
www.afterhoursny.com
www.upstateunderground.net
www.spraci.com
www.newraveorder.com
www.raversonly.com
www.purerave.com
www.syracuse.com
www.ravelinks.com
www.torontoraves.com
www.stateoflol.com
www.undergroundEdm.com
www.direktinfluence.we.bs
www.hugemassif.com
www.nycravers.com
www.rythimism.com
www.reflective.net
www.lolli.org
www.raversonly.com
www.breakfastscienceboard.com
www.phillydancescene.com
www.reflective.net
www.dogsonacid.com
www.mcppresents.com
www.jambase.com
www.buzzlife.com